Business Profile:
Steve's Self Drive Hire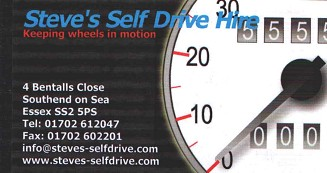 Click on card to visit company website
Double click to zoom
Category:
Transport & Motoring
Business Name:
Steve's Self Drive Hire
Description:
Steve's Self Drive was formed in 1982 and was then known as Steve's Van Hire dealing only in Commercial vehicles. It was our aim then as it is now to provide the best quality and value vehicle rental in the area.

In 1989 we added cars to our portfolio and it became necessary to rename the company Steve's Self Drive to take in the broader range of vehicles. We now operate a substantial fleet of vehicles including Citroën, Ford, Jaguar, Land Rover, MAN, Mercedes, Peugeot and Toyota.

The year 2000 was the beginning of a new era with the company moving to new purpose built premises in March.

In 2003 we joined the United Rental Group which boasts the best 300+ independent Rental Companies in the country. We all operate totally independently but together provide a platform for best practice in the industry.

We continue to invest heavily in the latest vehicles and are committed to ensuring our fleet is as green as possible.

In 2008 we added air conditioning to most commercial vehicles so van drivers can work in the comfort normally only found in cars.

Today the environment will play a major part in planning our future fleet and we are already looking to offer the latest diesel electric hybrid technology in the not too distant future.

Telephone:
01702 612047
Fax:
01702 602201
Website:
www.steves-selfdrive.com
Address:
4 Bentalls Close,
Southend on Sea,
Essex,
SS2 5PS.