Business Profile:
Professional Renaissance Limited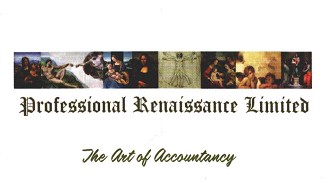 Click on card to visit company website
Double click to zoom
Category:
Finance
Business Name:
Professional Renaissance Limited
Description:
Certified Public Accountants in Rayleigh, Essex and Kings Hill, Kent.

Welcome to Professional Renaissance. We provide a personalised service to business owners and individuals in Essex, Kent and the South East. For help with any of your accountancy, tax or business needs, please give us a call.

All initial consultations are free of charge.

Would you like...

Fixed competitive fees;
A free tax review;
Work on time, every time;
All work 100% guaranteed;
To make more profit;
To pay less tax;
Someone to sort all your paperwork;
An accountant who speaks plain English.
Unlimited phone support;
You would?

Then let's talk........

We work closely with our clients and act for a broad range of business and personal clients.

Apart from the more general accountancy services we can also assist you with business development and specialist tax services.

Our philosophy is always to do our utmost to...

■ Provide friendly, courteous and efficient service;
■ Always exceed your expectations;
■ Listen to what YOU are saying;
■ Communicate with you quickly and fully;
■ Never surprise you with bills you're not expecting;
■ Be honest, truthful and upfront with you at all times;
■ Aim for you to pay the least amount of tax payable within the law;
■ Provide pro-active business advice wherever possible.

You can receive a very broad range of services and we are familiar with business clients from startups to larger companies covering many sectors including...

■ Manufacturing;
■ Professional services;
■ Retail;
■ Agriculture;
■ Construction;
■ Property rental and development;
■ Transport;
■ Information Technology;
■ Design and Marketing;
■ Service businesses.
We appreciate that only in time can we gain your trust, so that you know when we say we can and will do something, we do it.

We hope to get that opportunity.


Contact Name:
Mark Pipe
Telephone:
01268 770099
Email:
mark@p-r-l.co.uk
Fax:
01268 771155
Website:
www.recommendedaccountant.com
Address:
First Floor,
69 High Street,
Rayleigh,
Essex,
SS6 7EJ.